I think we can all relate with Chandler when he wants to quit the gym.
When this bright, new shiny fitness center opened near our house, my husband and I signed up immediately… and regularly went for a period of time. Then, life happened, schedules got busier, the weather got colder, and, you guessed it, we never went back. But we kept those gym memberships for 2 more years thinking, "maybe one day."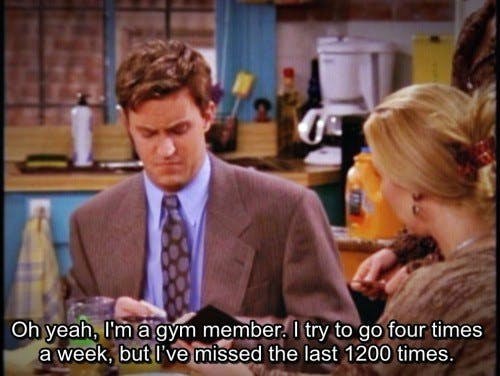 When talking about this with friends, we realized just how much money we were throwing away on our unused memberships, and it was time to quit. There's a lot of guilt when quitting a gym, but truthfully, I've never loved working out at a fitness center and always dreaded going. Part of it might have to do with being an introvert and the other part with not really knowing what I'm doing on the equipment. I felt frustrated that I could never find a fitness routine that fit into my budget, could be easily incorporated in my daily schedule, and kept me engaged for a long period of time. I needed to find something that worked for me.
Enter Studio Tone It Up. I want to start by saying for the record this is not at all sponsored. Four months ago, I joined the TIU community, and it reinvigorated my fitness journey. I was skeptical because every. single. review. was singing its praises. I scoured the internet for negatives, couldn't find any, and decided to try it out for myself.
I love the Studio Tone It Up app and workouts because it's so convenient. There's a new class every day focusing on a different part of your body. Classes start on every hour or half hour and last 20-30 minutes each. It's a short workout, but they can be intense. For full access to the workouts, it's $12.99/monthly or $6.99/month when paid annually. There are also Daily Toning Moves on the app that are free.
Convenience isn't the only reason I love it though. The trainers are super fit, pretty girls with 6-packs who call you and each other "babe," and say things like "namaslay." I would normally roll my eyes at this, but mixed in between the cliches, they are actually really uplifting + promoting body positivity and self confidence. They encourage you to be the best version of yourself + continue to make improvements each day. Who doesn't love a virtual support system of strong women?
This has worked for me extremely well and has allowed me to feel more confident, healthy, and energized! Everyone is different and has their own preferences. For me, it was finding out what works with my schedule and what keeps me engaged. So far so good!
What workout routine do you love? I'd love to hear in the comments below!
Photos via